Jiji Knight is a Mexican-American pinup illustrator. An avid champion of body positivity and uniter of the cute and macabre, she dedicates her body of work to the art that is a woman. Jiji is actively seeking to put out into the world the art she wished she had seen growing up. She holds a Bachelor of Fine Arts in Illustration and resides in her sunny hometown of Las Vegas.
Tell us a bit about yourself!

Hi INPRNT! I am a Latina, a soft pisces if you believe in astrology, and I am a woman born and raised in the desert heartland of Las Vegas, Nevada. Art is my way of getting back at a world who told me because I was overweight I couldn't be happy or thrive. I'm inspired by beauty and exploring what that means, by the idea of death and motifs that surround it and by whatever makes my strange heart flutter with serotonin. I am an artist. I am a designer. I am Jiji! Nice to meet you. 
What is the main medium, content, and/or themes that are frequently present in your work?

The main content of my work is women. I am a pinup artist first and foremost. I draw ladies all day long and will keep drawing them 'til the cows come home, as they say. The themes I most frequently brush up alongside are usually death and death adjacent motifs, the concept of joy/happiness and what it can look like from a lens often forgotten, self-love, and body positivity probably most of all. I make art for people with stretch marks, for people who have been abandoned by the fashion industry at large and for people society often think should be unhappy and sad and ashamed of themselves. You can usually find me using traditional media like ink, watercolour, and marker. I also use digital programs like Procreate and Adobe Photoshop to create my work. I most often marry the two as I find that it helps me keep my work more authentic and vibrant.
What have been some critical moments or challenges in your career/work that have shifted your perspective creatively?

All that comes to mind right now is moments where fat-phobic people find my work and find the need to share their 'advice,' meaning they are ugly opinions masquerading as being helpful. They will offer sage-sounding health advice and berate me for 'encouraging the obesity epidemic' and have points of argument they are literally parroting on repeat to whoever will seemingly give them the time of day. I find that it just makes me double down on creating the art I do. It's not so much that it shifts my perspective but reaffirms that what I am doing and what my fellow fat content creators are doing is important. We are creating and fostering a safe space.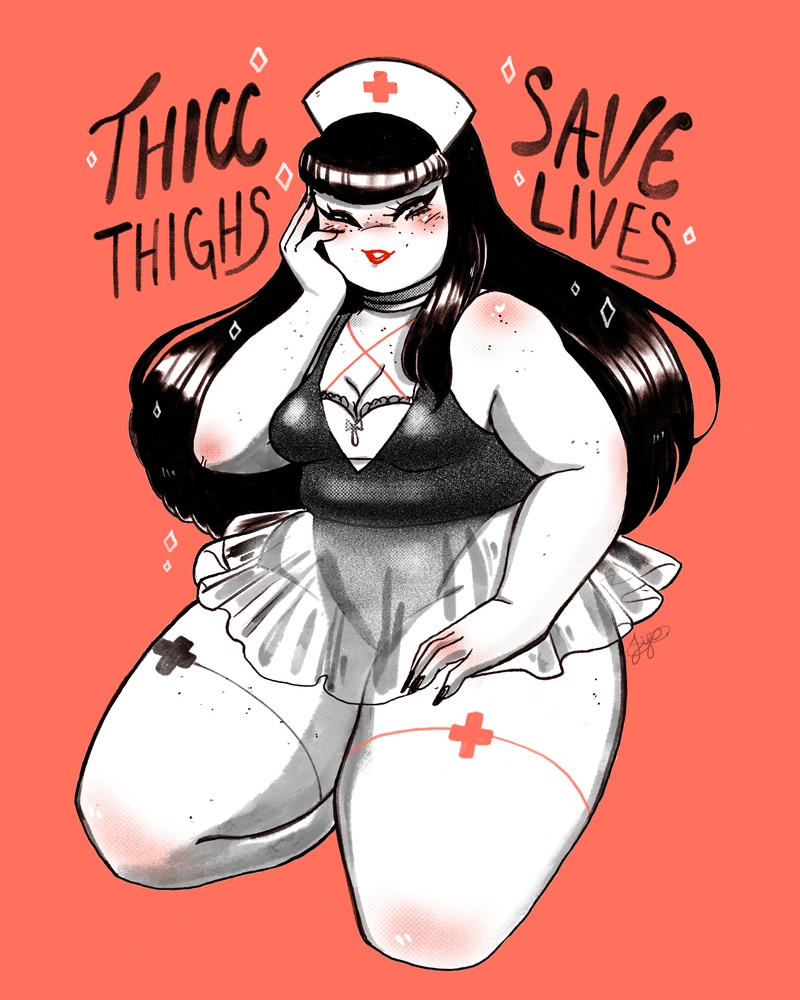 What have you learned in your journey to become an artist who sells their work either as a main career or on the side of another career?

I've learned that it is truly a full time job far beyond what people tell you a standard work week is. Selling your work is not just a 9-5, five days a week situation. I have been getting better about setting boundaries for myself as a freelance artist, but there are some days where you need to continue to hustle to make sure your deadlines are met. Sacrifice is an unfortunate requirement when you're building a brand for yourself and selling your work full time to the masses. Sacrifice and self-accountability. You're your own boss so you have to strangely enough strive to be an employee that you'd want to have and make sure to hold yourself accountable for everything you have to do.  
Tell us about your artistic process.

My process is a mixed bag of steps, but I usually lay out a few sketches, get a reference if I am drawing something unfamiliar or a pose that isn't in my normal wheelhouse, and then follow up with a tighter sketch. At this point, I'll flip my canvas back and forth to tweak what I feel is necessary before I start inking. I usually ink in whatever program I've decided to use – generally Procreate – and from there lay my flats and proceed to tweak and finish over the course of a few days. It helps to keep my eyes fresh when I am working on a piece. If I get stuck, I'll walk away, look at some inspiration boards I have online, or sketch something else before coming back to it later with a more refreshed mindset and perspective.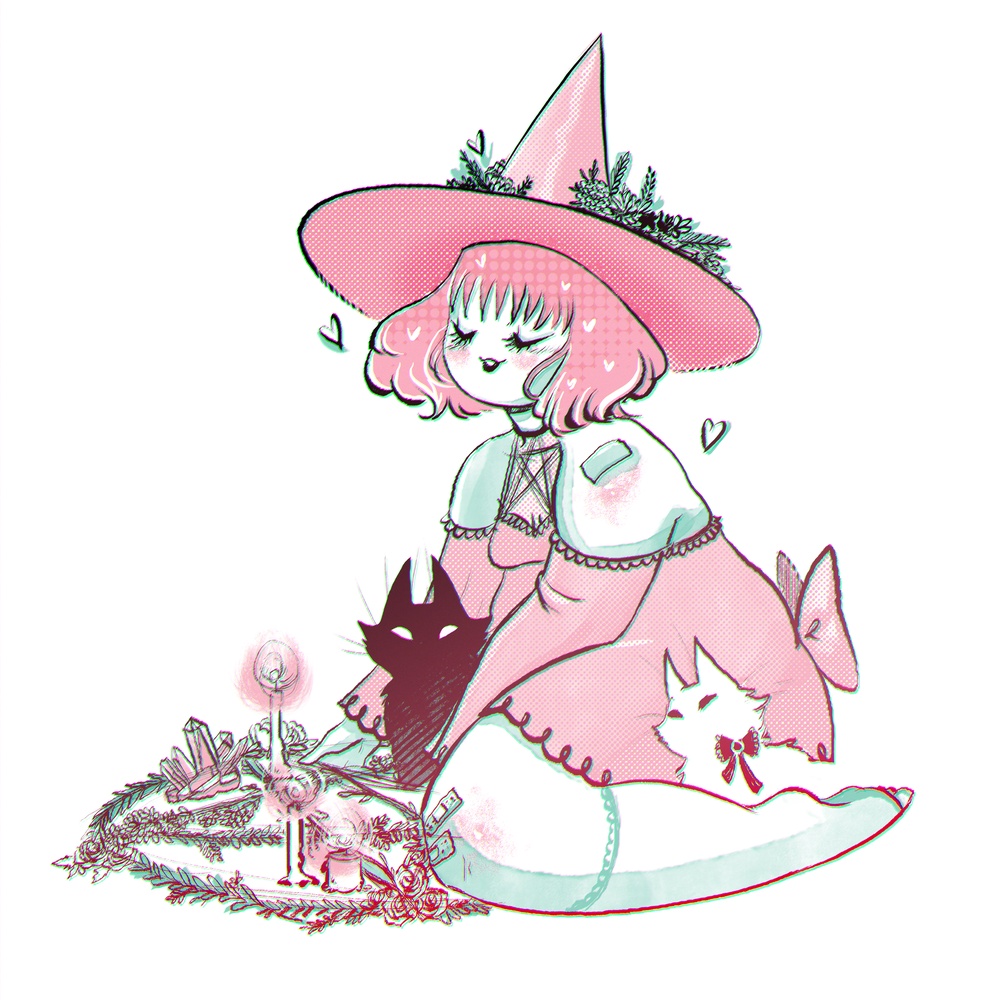 How do you find inspiration and what are those inspirations?

My best inspiration comes from making things that make me happy. If it makes me happy, chances are other people will vibe with it and find my joy to make it their own. I likewise find a lot of inspiration in the shape language of fashion and haute couture, the fluidity of fashion illustrations, from some of my favourite artists (like Alphonse Mucha and Audrey Kawasaki) and from personal obsessions. I love flowers, bones, negative space, hourglasses – there are a lot of items that give me that urge to make something, so I do. Oddly enough, I come up with a lot of my best ideas mid-dissociation. It's like my brain goes brrrrrrr and just puts together colours and shapes that make sense and the act of making it real is gratifying.
How you get motivated to push past creative blocks?

Who of us has never found themselves blocked and lamenting over a blank sheet or document, trying to force something impossible feeling to happen? I've found forgiving yourself helps a lot. Often times I get blocked because I am overwhelmed. It's my brain's way of asking for some time. I find 'recharging my creativity tank' helps so much. That means taking the time to enjoy content others have made like watching the newest season of Stranger Things, taking an hour to play a game I enjoy, reading books or media about content I enjoy – these little moments feel like a waste of time but help you so much to find inspiration and ideas. They inform your creativity and help your heart find the fire it follows. I'll usually find myself making fanart and create something that takes little effort, reminding me why I love what I do and how I do it all at the same time.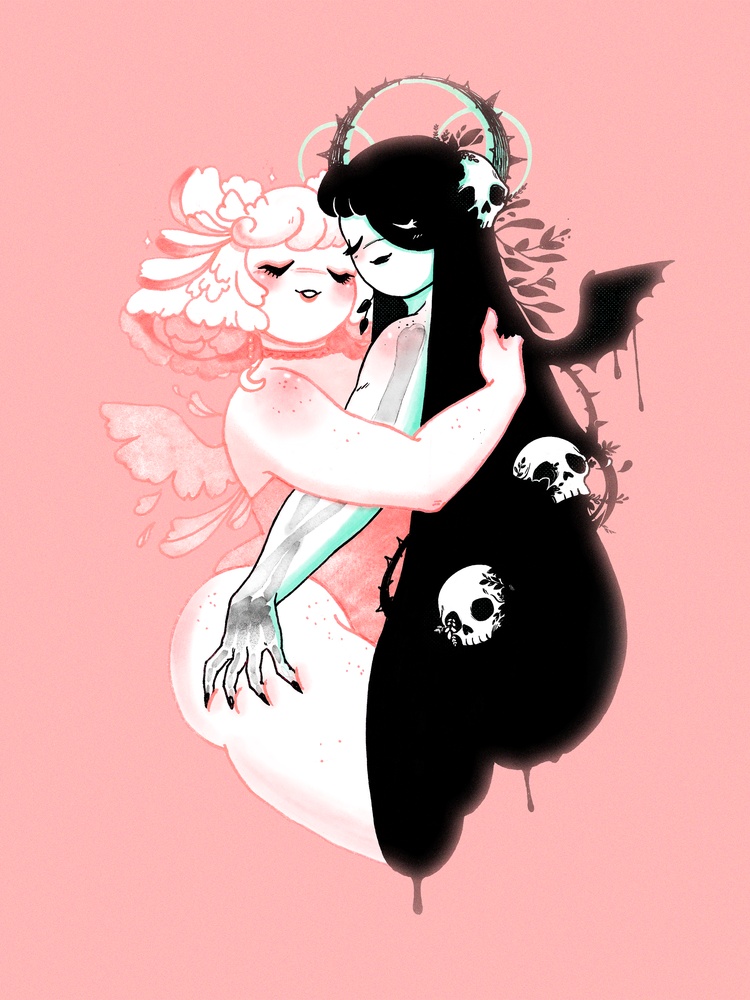 Do you have any advice for young people or other artists who are looking to sell their work?

Start somewhere. Half the battle is starting. I started selling things that are easy to make and familiar, like stickers and art prints. The more you enter the community of artists around you also selling things, the more you realize there are people out there more than happy to hold your hand and help you learn. Google is your friend and so are group order clubs. I started in the Artist Alley Network International group on Facebook where people were getting together to order products together. They all get together because united as one large order they have the power that larger businesses do when it comes to ordering things and get better rates on not only the cost per item, but sometimes that minimum order quantity that holds a lot of beginners back. 
What's next for you?

Taking over the world! In all seriousness, I am trying my best to expand my business beyond the Americas and this side of the globe. So next for me is figuring out my brand on a more international scale. It's hard when you're a one woman show just making things happen as best as you can, but I've been told I have moxie and I'll use every last bit of it to make it possible. So cheers! To small businesses. ♡ May we all flourish.