Yaoyao is an art director, painter, illustrator and occasional animator. Over the years she has worked at Disney TV Animation, Warner Brothers Animation, Rick and Morty, Stoopid Buddy Studios, Starburns Industries, etc. Yaoyao enjoys creating stories with each painting, especially the ones with her dog Parker in them.
Yaoyao lives and works in Los Angeles.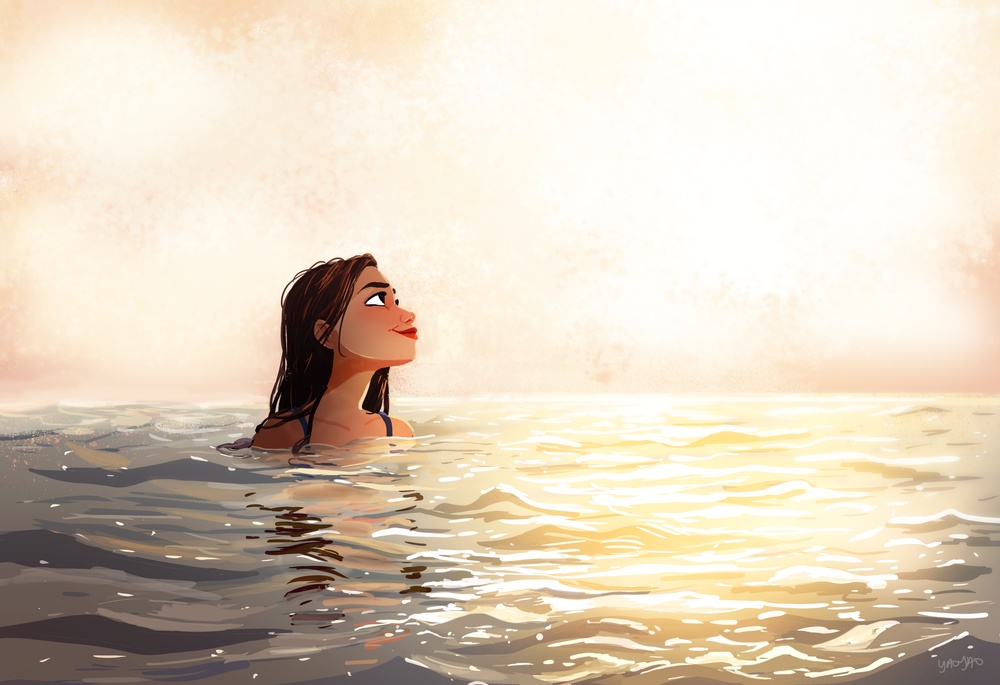 Tell us a bit about yourself!
My name is Yaoyao, currently living in Los Angeles. I've been working in the animation industry as a background painter, art director, and animator. I also work with a variety of publishers illustrating book covers.
What is the main medium, content, and/or themes that are frequently present in your work?
I usually use Photoshop to illustrate stories about little moments in life, most frequently about my dog Parker.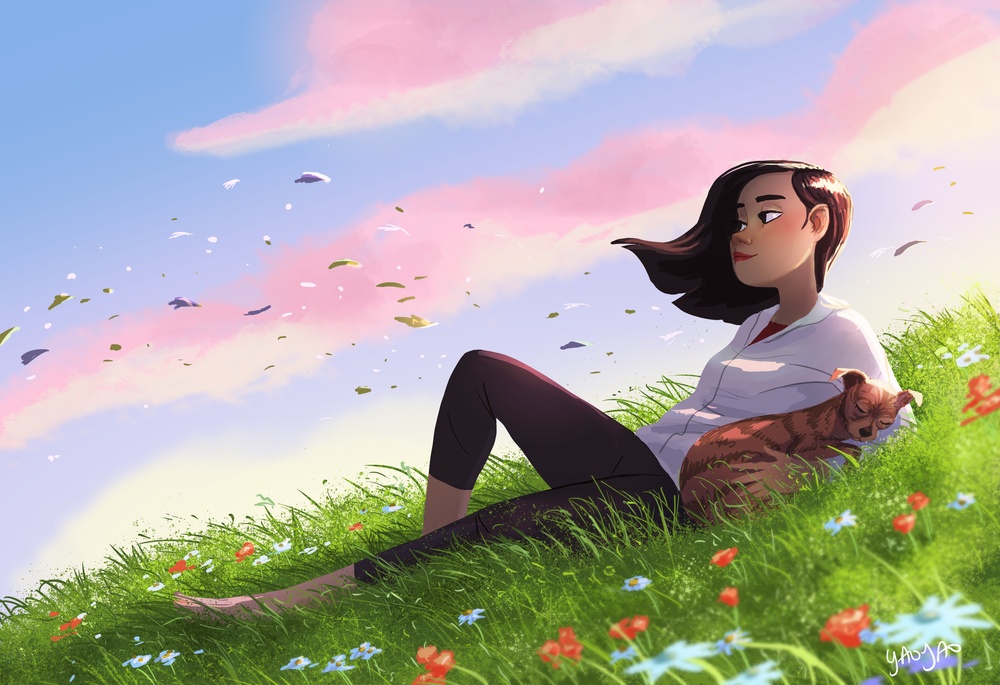 What have been some critical moments or challenges in your career/work that have shifted your perspective creatively?

I used to put so much weight and importance to which companies I work for, as if I'm not a good enough artist if I didn't work for whichever company I thought was "the best" at the time. It made all my goals a little twisted and unhealthy. Now I've realized that I need to focus on making myself happy. Sure, it's nice to have jobs, but I'm taking out the toxic competitive elements to my mindset. The company you work for doesn't define who you are as an artist, and I shouldn't compare my own achievements to what others have done. I've been so down on myself for so long, thinking that I'm not good enough compared to other artists, but I'm working on not thinking that way anymore.

Much of your personal work is based in storytelling. What kind of stories are important to you to illustrate?
I really enjoy illustrating little moments in life. I like the challenge of telling the story in a single illustration. Parker, my dog/son, is my main inspiration for a lot of my work. Right now I'm super busy with work, but once I have more time, I want to tell some bigger stories.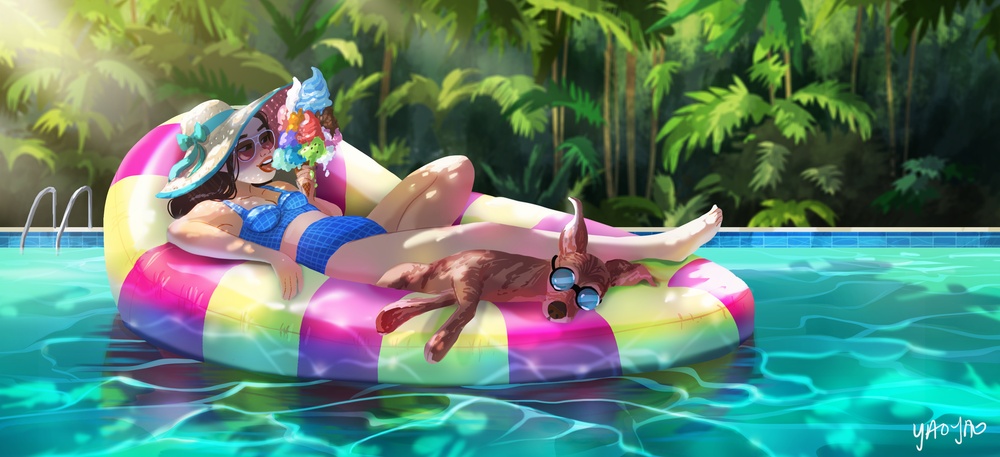 How do you find inspiration and what are those inspirations?

My go to inspirations are Parker and my personal experiences and memories. A lot of times I'll listen to songs, the way the music makes me feel or a certain lyric, and I'm instantly inspired. Since the pandemic, I haven't really taken as many personal walks as I used to, but when I do walk by myself, I just let my mind wander, and I get super inspired that way too.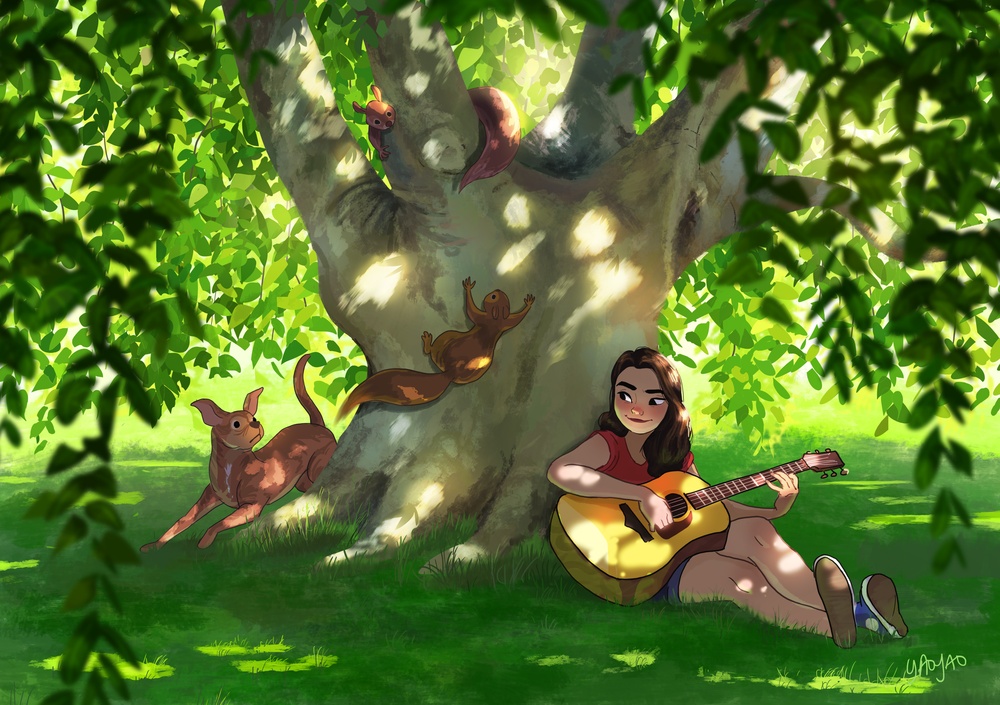 Do you ever find yourself in a creative roadblock? If so, tell us how you get motivated to push past it.
Creative roadblocks are annoying and happen to me more often these days because I have no time to be creative for myself, so when I do have a little time to sit down and draw, I freeze up and don't know what to do. I set too many expectations for myself when I do have a few hours that I think "I need to make it count, so do something challenging!" By the time I start doing anything, I've run out of time, and need to go back to doing other things, which causes a constant stress cycle. I'm trying to push past it by doing quick thumbnails whenever I have an idea, so that when I actually do have time to flesh it out, I get into the flow more quickly. I also try to push past the creative blocks by reminding myself to not compare myself to other artists too much.