Erica Williams, also known as HookieDuke, is an illustrator known for their intricate mark-making and illustrations of flora and fauna. Tangled with fantastic and often macabre tones much of their work focuses on the forgotten, endangered, the occult and lore.
Erica attended Kansas City Art Institute (KCAI), and became a freelance illustrator in 2012. Since starting they have created posters, album art, apparel, identity, print advertisements, book covers, skateboards, and various merchandise for a variety of clients and industries. Their work has been included in Spectrum Fantastic Art, Curvy, Alternative Movie Posters, and others.
Erica has been an INPRNT artist since 2011.
Tell us a bit about yourself!

My name is Erica, I am an artist living in a body hurtling through space somewhere in a cosmos we don't totally understand. I have several adorable cats that keep me company and constantly make me laugh. I enjoy tea, fresh apples, and croissants as often as I can. I have many passions in life, and love that my work allows me to indulge in many of them.
What is the main medium, content, and/or themes that are frequently present in your work?

I bounce around between mediums and consider myself a multimedia artist. The majority is completed traditionally in ink and color is added digitally. It is littered with adornments, oddities such as stray eyes or wings, lush florals, and seated in a place of nature. Travelers, spirits, familiars, and witches are also heavily featured. These topics arise from a deep fascination with folklore, the occult, arcane, and fantasy.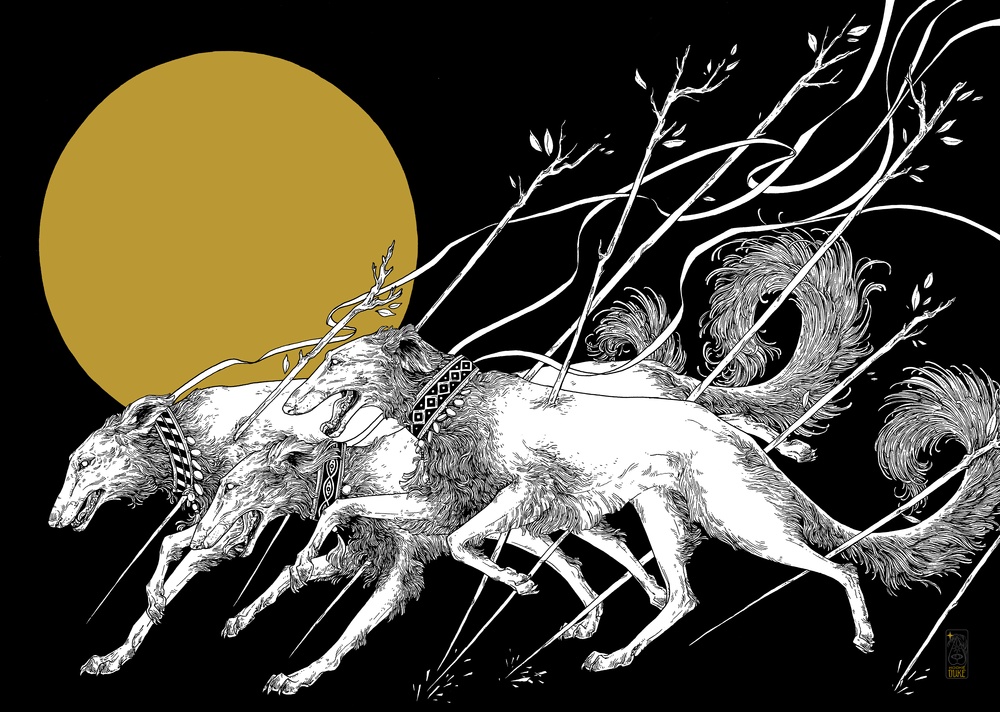 What is something you want our audience to know about you or your work?

The traditional aspect of my work is important to me. Sitting with pen and paper, looking at a drawing in different lights at different times of day, feeling the texture of paints, the texture of a screen print or etching, the smell of paper when it is fresh from a print shop are all things I treasure about my work and the process of making it. They each mark a milestone in the process, in addition to being ways in which the art is experienced outside of digital spaces. It is as special to me as walking in the woods or stepping into a river with bare feet. Connecting literally with the things around me that feed the soul.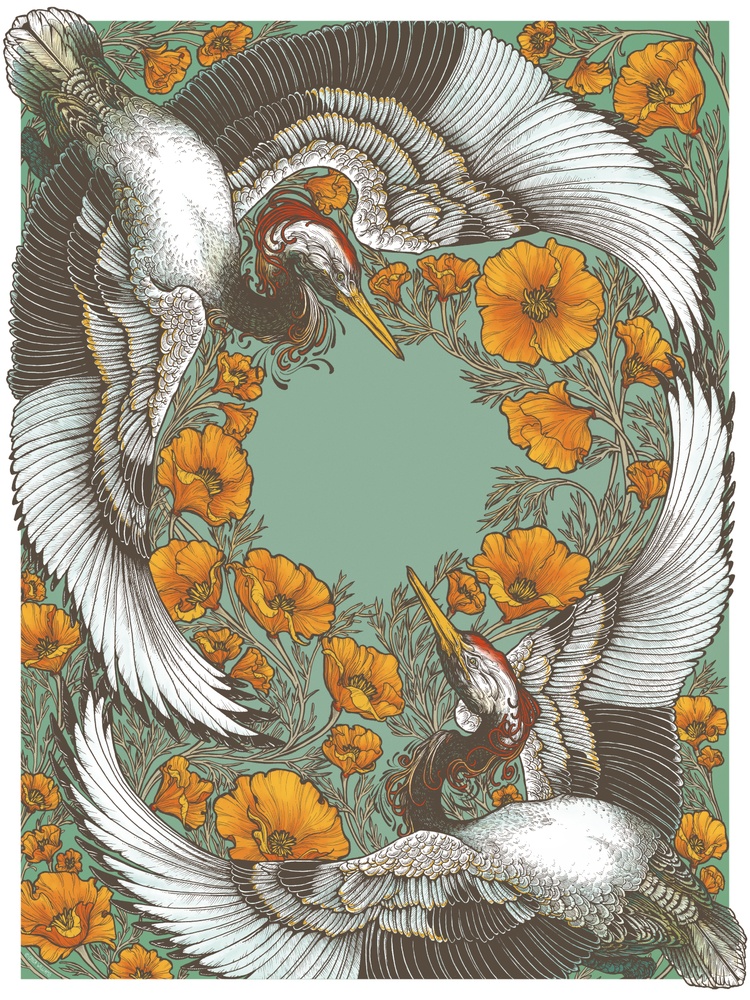 What have been some critical moments or challenges in your career/work that have shifted your perspective creatively?

In March 2020, right as Covid-19 lockdowns were hitting and everything shut down I ran my first Kickstarter project for my art book, Ritual. I was nervous, worried about literally everything. I think most of us were. That Kickstarter project was a massive shift in perspective, both creatively and in the way I saw my work, which in turn shifted my creativity again. 
It was a wild experience and an insane emotional ride dealing with global, community, and personal traumatic events while also accepting this massive gift of support for my art. From launch to the last day, I was packing books into boxes, it was more than I had planned for at every level. But it showed me what I had done, what I could do, and really made me think about what I can and want to do. 
What have you learned in your journey to become an artist who sells their work either as a main career or on the side of another career?
I really love art. At the core of my being, I love art. Making it, looking at and experiencing art, and seeing others create art. It is deeply connected to the way that I communicate and experience the world. I take a lot of joy in being able to share my work, to know that it is in someone's home and they live with it. That they'll interact with it, just like I do with the art in my home and studio. To be able to share my work in this way, with people I know and some I will never meet–the lesson I take from that is really quite special. Making something that can connect with someone across the world, that they have their own really unique and intimate experience with it is fantastic and meaningful. 
But also that you have to love it that much because it's really difficult to do. Within yourself sometimes, and without in the real world. Putting a monetary or commercial value on something you create can be uncomfortable and complicated, it is often at odds with my values. So loving it a lot, and being okay with loving the process, then letting it go, and finding ways to bring that love back into the mix when things get challenging is an important lesson, one that is learned in different ways over and over again on the journey.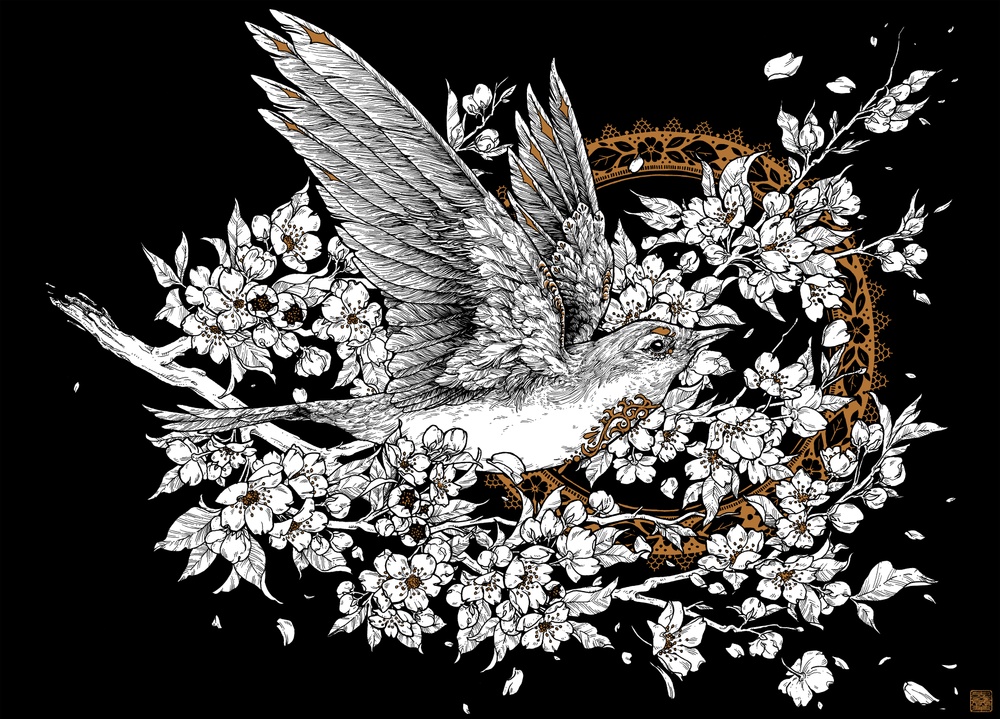 Tell us about your artistic process.
Usually I begin traditionally. I love rainbow pencils for loose sketching, not only is it fun, but it encourages me to use long, single strokes which is good practice. Once I have a concept down I'll collect references, dozens of them, and really nail down my concept, composition, and proportions. These sketches are done digitally and are color coded. When I am happy with one I print it out and then use a light box to transfer it to my final bristol. Here, I'll hyper focus with the assistance of music or an audiobook until I have a much tighter and cleaned up pencil drawing. These pencils are the guide for my ink work, which is completed usually with technical pens. The ink portion of a drawing takes the most time, between 5-40 hours depending on complexity. The art is then scanned, cleaned, and color is added digitally. A lot of my work has been screen printed so the color is often influenced by that process. I also paint with gouache and watercolors, in addition to some fiber art. However aside from adding color digitally, the rest of the process is very similar.
What are your hobbies and interests outside of creating art? How do these affect you creatively?
I think it is vital as a professional artist to have hobbies and interests outside of art, that being said they often cross paths quite a bit. But having something you can turn to that is not your work, is important. No one wants to be working all the time, and art is work. If you are always on the clock you are never resting, and we all need mental, physical, and emotional rest. Hobbies help with this. My personal favorites are figure skating, practicing archery, reading tarot, lots of reading novels, tea, and cooking. As well as hanging out with my cats.
How do you find inspiration and what are those inspirations?
Inspiration is everywhere. It's all around us, and within us. I am at all times inspired by so many things, and I put effort into making sure I encounter inspiration. Anything you encounter and have an experience with can be inspirational. I love nature, plants, animals, flowers, insects, scales, bits of earth and moss, the way light dances on waves, anything and everything. I love to learn, and I love a good rabbit hole topic! There is an abundance of absolutely fantastic imagery and narrative in lore, mythology, and religion. Honestly, the easier question to answer is what don't I find inspirational, that produces a much shorter list.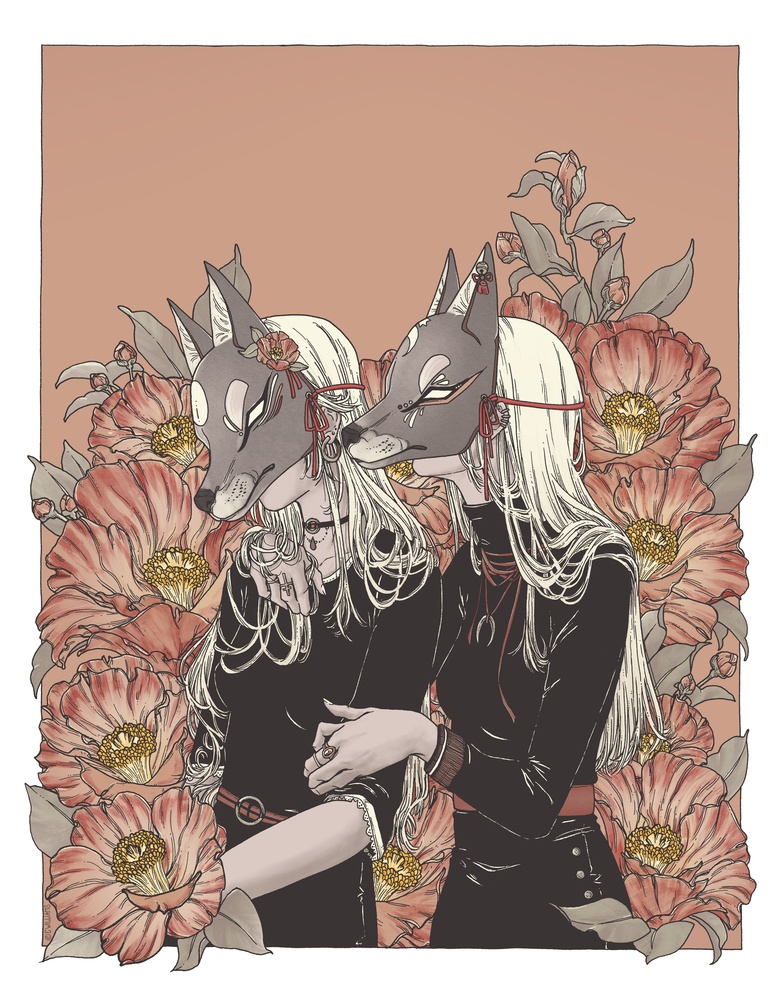 How do you get motivated to push past creative blocks?
No one can be creative all the time. That being said, capitalism never sleeps. The need to survive is a really powerful motivation. As a professional artist I have to sing for my supper, and sometimes that means pushing past it because it is what is required. However, as soon as I can I will try to rest and recharge. Disconnect, and walk away from it. Leave it and be a person not attached to the need to perform and be creative. Then, I can come back. Learning to step away sooner is the real trick to overcoming creative blocks.
Who are artists or people who have influenced you?
A great many teachers, mentors, and friends who encouraged and uplifted me and are brilliant and amazingly skilled themselves. I am so lucky to have a lot of fellow artists as friends, whose work and whose stories are always powerful influences. For those I haven't personally met, a great many more. Mucha, Klimt, Miyazaki, CLAMP, Booth, Rackham, Virgil Finlay, Takato Yamamato, Freida Kahlo, Warhol, Carravagio, Durer, and Yayoi Kusama.
Do you have any advice for young people or other artists who are looking to sell their work?
Learn to say no, and learn the value of your work and your skill. It's work to sell your work. It's going to take you places you maybe don't want to go, and be asked to draw things you don't want to draw. It's ok to say no. It's good to set boundaries between you, the person, the art you make, and what you do with it and to sell your art.
What's next for you?

I'm currently moving to Seattle! So that's the immediate next. Setting up my practice in a new state! Then on with the making of some art. After settling in it's my intention to get back to the art I wanted to be making even before I decided to try illustration professionally. Getting back to fiber art, and seeing how to weave the two practices together. I am very much looking forward to it.