1. Tell us a bit about yourself!
I grew up in Boston on a big hill lined with trees, along with three younger siblings and two parents who were supportive of my artistic inclinations. From my earliest memories making pictures has been how I've brought my imagination to life. In elementary school it dawned on me when my classmates asked me to draw on their notebooks that this gift was also a way to connect with my classmates. After earning status as the art guy in high school I went to The Rhode Island School of Design, where I really began investing all of my energy into art. For my senior year I got into the European Honors Program and studied in Rome. Soon after, friends' siren calls took me to Los Angeles for film production. Grad school took me to New York City where I refined my work to the degree I'm known for today.
It's always gratifying to see my paintings hung on gallery walls, on the shelves at bookstores, and to hear from people who enjoy my stuff. I'm fortunate in being able to team up with all kinds of companies, as art allows me to take worthwhile intentions, complex concepts, and interesting stories and turn them into compelling images. I've been an avid reader since I was young, so working on book covers is one of my favorite projects. Competitive card games like Netrunner and Arkham Horror have also been a good fit over the years.
Other collaborations that come to mind include podcast covers, film & theater posters, magazine editorials, t-shirts, liquor bottle labels, food trucks, and escape rooms. When the need arises, I also like to lend my support to causes that promote equality and the welfare of wildlife and the environment. A trend I never would have expected has been the number of individuals that get my paintings inked on their bodies. That level of bonding with my work is really special, so I recorded a video conversation to share with people.
Making a living as a full-time freelance artist and illustrator isn't easy, but it's the best fit for who I am, because I love creative problem solving and producing images that matter. I believe deeply in art as a fundamental source for providing humanity with meaning, communication, and possibility.
2. What is the main medium, content, and/or themes that are frequently present in your work?
I work primarily with oil paints. Even though they're such an old medium, they really do have a versatility that can go in almost any direction. The act of painting can flow wonderfully when I'm able to focus fully in the moment. Making a picture successful isn't easy, but having it appear to be effortless is part of the vibrancy that comes through. When it comes to producing pieces for print or screen, I scan the paintings and refine them digitally with Photoshop. The visibility of the strokes is a distinctive aspect to my work that I developed in grad school. I do this because I've always found that the transformation from blank surface into living being to be exciting, like stumbling upon an unfinished study by John Singer Sargent. It's like a dance between our world and the world of the illusion reverberating for all eternity.
Overall my goal is to create a sense of enchantment with the familiar and intrigue with the unfamiliar. Themes that are important to me include nature, wildlife, mythology, the human mark, consciousness, the supernatural, and traversing our local plane. For me, a piece isn't fully realized until I can feel it breathing.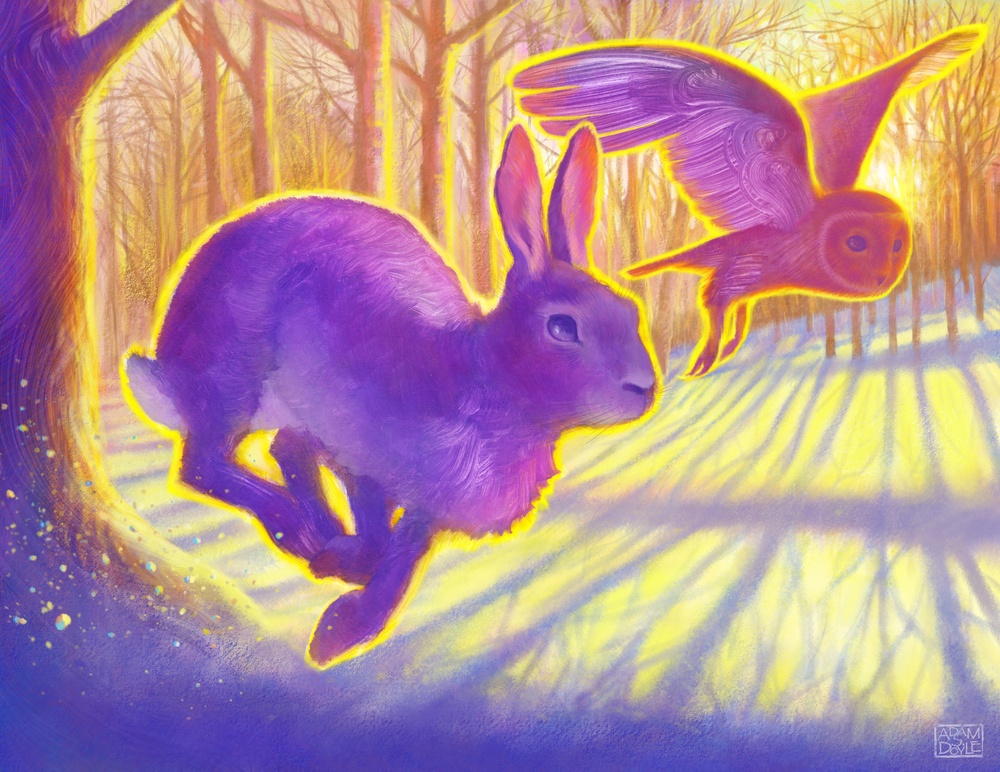 3. What is something you want our audience to know about you or your work?
Well my collection here on INPRNT includes over a hundred pieces. Some have sold at galleries, some are illustrations that publishers gave me permission to make available, and some just came out of a need to make something beautiful. There are subjects I return to repeatedly, like trees and dragons, but my proclivity is to venture into unknown territory. I want to understand the true nature of reality, which means wandering far from the mainstream and accepting that my assumptions will be challenged. I know that I could be more successful by sticking to only the subjects that have been popular, like birds, but my need to explore is just too strong.
As my awareness grows so too does my work reflect the journey. My paintings are all charged with the highs and lows of life, from my time in New York to when I moved to Auckland and then to Hong Kong, before eventually returning to Boston. While I'm generally even-keeled, at times there's cathartic sadness, or radiant joy, or once in a while, youthful wonder. The spectrum everyone's familiar with. Whether the images hang on a wall, are in the pages of a book, or glow from a screen; they exist to be honest and supportive companions to anyone who gives them their attention.
4. How do you find inspiration and what are those inspirations?
That's a great question. I'm fascinated by inspiration. It's such an elusive phenomenon. What is it? How can it be cultivated? How has our culture been shaped by people who were struck by it like a bolt from the sky, or nurtured it over their entire career? In what way is an artist's relationship with inspiration different from a journalist or a farmer or an athlete?
These kinds of questions actually led to quite a bit of writing over the past handful of years. What started out as a modest few chapters has developed into a dense tome of facts, stories, and ideas called The Book of Inspiration. The narrative starts in the familiar, in the productive day, and going for a walk outside, then moves across the landscapes of nature. From there the topics expand outwards in all directions. I address the origins of our favorite genres, mythology, dreams, drugs & medicine, travel, love, death, secrets, science, skepticism, the supernatural, capitalism, nothingness, and the unknown. Needless to say, inspiration is multifaceted. I'm admittedly much less confident about my writing, but I'm doing what I can to see it through.
As for my own relationship with being receptive to inspiration when it strikes, I've found that it's mainly about daily habits and weekly routines. I block out time to paint without distractions. I go for jogs along the river. I make sure to stop working for a bit of yoga and meditation. Living as we do in the "attention economy," I find that disconnecting daily is really important for keeping a clear head. I also like to balance my need for entertainment with a steady stream of learning. I'm at the point where the more I let go of my assumptions and delve into history, consciousness, and the nature of reality, the more I realize I don't know and want to keep going.
There are of course brilliant artists who I turn to once in a while, like MC Escher, but I draw as much from other disciplines as well, such as authors, directors, scientists, innovators, educators, and explorers. I enjoy teaching occasionally, gardening, and keeping my plants healthy. The ever present company of my pets is also a necessity. My girlfriend and I are both very close with animals.
The key to being regularly inspired in my experience comes from staying curious and being comfortable with being uncomfortable once in a while.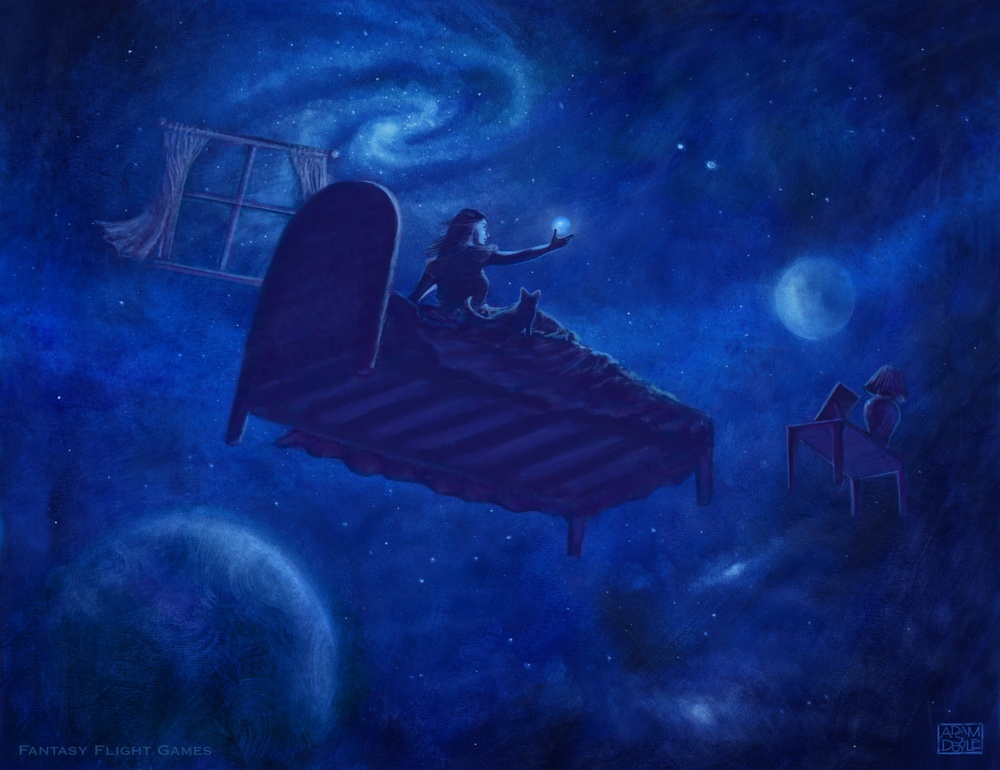 5. What have you learned in your journey to become an artist who sells their work either as a main career or on the side of another career?
Everyone knows that it's not easy making a living as an artist. Even though jobs are unreliable and all my friends make much more money than I do, I've found the artist's path to be deeply rewarding. My dad was a healer and I may carry a touch of that sensibility. He helped people by tending to their bodies. I want to help people by tending to their hearts. I think like most artists the profession has taught me to be resilient, adaptable, and to trust in the process. There are things that have felt out of reach, like being able to own my own home or afford decent health insurance. But that's also been less of a priority than not having a boss. I cherish my autonomy and being able to work with people directly.
For those of you reading this who are contemplating a life in art, all I can say is that the field is constantly changing and even one success doesn't mean more will follow. The most important quality to this profession, even more significant than talent, is the inability to do anything else. If you can be content at a job with making art on the side, that's the way to go. Personally, I found day jobs unbearable. The days I spent clocking hours at an art supply store, or catering, or sitting in an office cubicle only served to motivate me to get out of there and do my own work, no matter what. Trusting in my capabilities was a risk, but I've found that the world has met me halfway.
I'll close by saying that despite the daily news cycle endlessly churning things to worry about, I assure you that humanity is on the right track. In fact, we're genuinely on the cusp of the next stage of our evolution. There will be hurdles, but we'll get through them. This is a hard thing to communicate to people without sounding crazy, so instead, I paint.
I paint as a reminder that we're all in this together. I paint to open the window to the beauty of nature. I paint to let everybody know that our future will be amazing.