Tell us a bit about yourself!

I am a Swiss-born photographer and digital artist based in Berlin, Germany. Since a young age, I've had a fascination for all things art, subconscious, and illusionism. I enjoy remembering my dreams in the morning. I love magic shows, watching the impossible become possible, being tricked by optical illusions, being made to "look twice". I developed a passion for photography very early, probably due to seeing my parents with a camera all the time photographing me and my siblings. For my child's brain, a camera was a magical object!
During my history of art studies in the UK, I discovered the Surrealist movement, from which I acquired a new way of seeing the world. Artists who influenced me include René Magritte, Chema Madoz, and Rob Gonsalves. They made me realize the possibilities that art offers for playing around and inventing stories. I felt like my photos needed some kind of "magic". So I sought a way to combine my two passions — photography and surrealism — and the solution was digital collage (or "photomontage"). The turning point was when I came across the image editing software Adobe Photoshop. It was the perfect tool to express myself by merging my photos with my imagination!

My motto is to "make the ordinary extraordinary", which means to raise something to a new level of meaning. Everyday things are so familiar that we tend not to think twice about them. We no longer marvel much at our eyes and how they can see amazing things every day. The message I want to convey with my photomontages is that an object does not necessarily have only one function. And a very effective way to draw attention to something that has been taken for granted is to change the original function of that object.
What is the main medium, content, and/or themes that are frequently present in your work?

My medium is digital photography. I take photos with my Nikon or iPhone, transfer them to my Macbook, and merge them together in Adobe Photoshop (image editing software). A frequent theme in my work is the "bodyscape", which illustrates my fascination for the connection between nature and the human body. I perceive our bodies as landscapes: eyebrows are forests, tongues are winding paths, lips are delicate hills, backs are strong bridges, bellies are sandy beaches… I am particularly obsessed with eyes because for me they are the most expressive part of the body. My photomontages with eyes often create direct eye contact with the observer, which is a powerful thing: you can make someone laugh, be happy, fearful, sad, or angry just by the way you look at them. We also tend to search for human faces in things, it is a phenomenon called pareidolia. I find that thrilling!
What is something you want our audience to know about you or your work?

The most important thing about my work is that I use my own photos. I never use stock images. This challenge makes my artistic adventures very exciting and personal, as I share an intimate connection with each element in my photomontages: I know the models, touched the objects, saw the buildings, stroked the animals, ate the foods, and played the instruments.
What have you learned in your journey to become an artist who sells their work either as a main career or on the side of another career?

Being a freelance artist has taught me that you never really stop working, which is fine because it's something you love! I can't imagine ever retiring, ever stopping creating. I feel so lucky that I am able to make a living from my passion, that my art brings joy to people all over the world.

Tell us about your artistic process.

I usually plan the design of my photomontages beforehand, but sometimes the final result turns out different, which is also fun! I often use photos that I took five, even ten years ago. Back then, I didn't see the potential these photos had to offer, but today I "see" them with a new pair of eyes. The creation process — merging the images on Photoshop and then retouching the colours on Lightroom — but together. What takes time is to come up with new ideas, to 'train' my eyes to be able to find atypical connections between things that at first glance have nothing in common. That's also what I mean by 'making the ordinary extraordinary'. Everyday objects are so familiar that we tend to not think about them twice, we just use them for their function. It takes time and patience to find new purposes for the familiar, but it's totally worth it.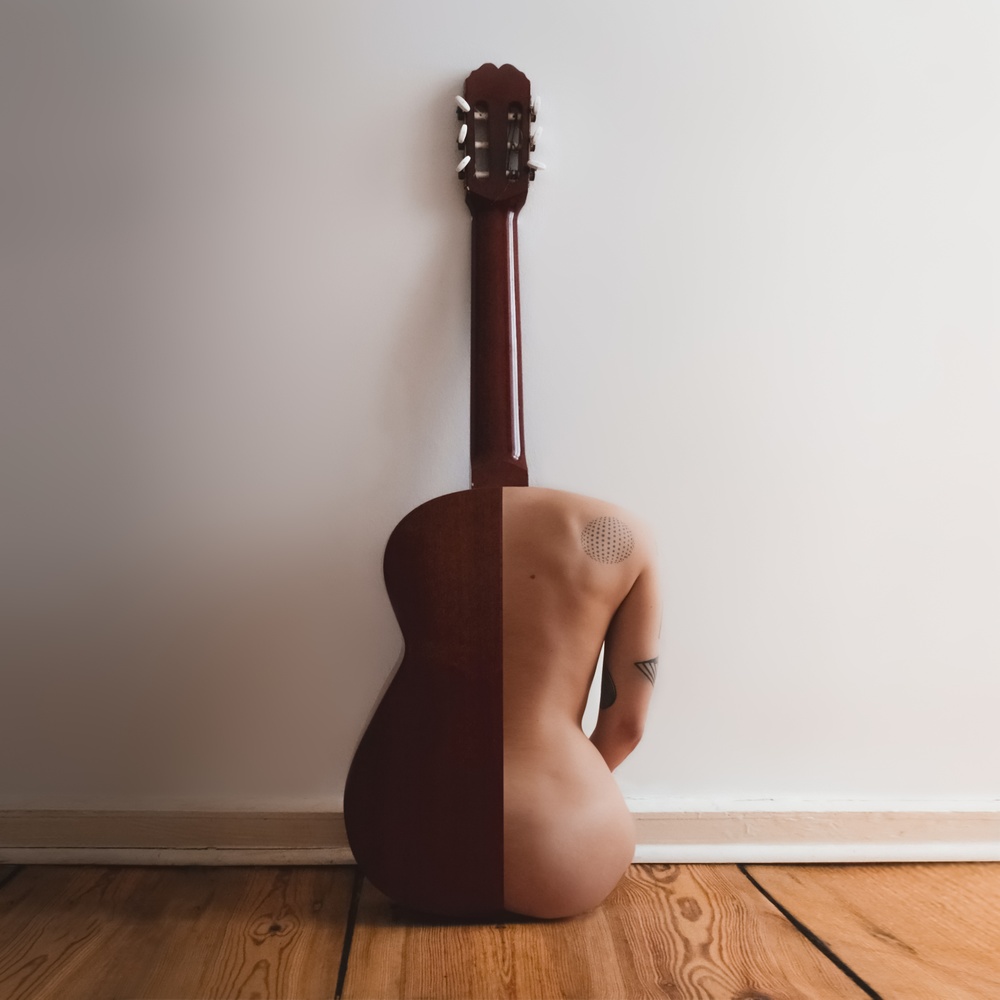 What are your hobbies and interests outside of creating art? How do these affect you creatively?

In my free time, I enjoy drawing, reading and going for walks with my boyfriend and my dog. Nature is a big source of inspiration for my work. I always make sure I have my camera or phone with me everywhere I go.
How do you find inspiration and what are those inspirations?

I am obsessed with anything related to the surreal, the imaginary, the impossible, the illusion. The artistic movement of Surrealism has influenced me enormously. I acquired a new way of "seeing" thanks to the Surrealists. René Magritte was my first inspiration. His paintings challenged me to question what I see. Chema Madoz likes to find new meanings for everyday objects; his vision inspired my artistic practice greatly. In terms of photo retouching, Photoshop master [and fellow INPRNT artist] Erik Johansson is the artist who inspired me the most to improve my photo-editing skills. These artists made me think differently, made me question art in general. Instagram is a wonderful source of inspiration as well. My favourite artists at the moment are @suissas @dudibensimon and @drcuerda. What all these talented artists have in common is the optical illusion element. I am constantly fascinated by art that is challenging for the eyes, by art that makes you look differently at the world around you.
Tell us how you get motivated to push past creative blocks.

I guess it's impossible to feel like creating all the time, and I can't really control when I'm going to feel inspired. I learnt from experience that inspiration comes in many forms: by going about my everyday occupations, by experiencing life. If I don't have a photomontage idea right now, it's probably because I haven't encountered the 'thing' that will spark my imagination yet…
Do you have any advice for young people or other artists who are looking to sell their work?
Be patient with yourself — your artistic pathway will be a series of stepping stones to ever greater success. You're going to want to give up a lot of times, but you have to persevere. If you chose to be an artist, it means that making art is what makes you happy. No other job will do, so keep going.
Do something unique — try to see the world with your own eyes. There are so many people calling themselves "artists" out there who simply copy the work of actual artists. Be inspired by other creatives but strive to bring something fresh to the world.
Do your art for yourself — not for others. It's your personal expression. Also, don't feel like your work has to have a certain aim or meaning. Art has many purposes, including the simple one of bringing pleasure to people. I love it when people tell me that my work surprises them and offers them a little moment of fun in their day. There can be millions of interpretations for my work, but in the end, I create these montages because it brings me joy and challenges me. Make art because it makes you happy and challenges you.
What's next for you?

I dream of a few collaborations that I hope will one day come true… But otherwise I'm pretty happy with the way things are going now, regularly creating new montages, collaborating with brands, traveling from time to time to take new photos. My next exhibition will be in the Museum of Optical Illusions in Seville this summer, I am so excited. Making art is what makes me happy, and the fact that people appreciate my work makes me even happier.

As I broaden my visual field of objects around me, I discover new concepts, new ways of inspiring. My art is the way I express myself in this world and I want to continue providing people with a refreshing way of seeing things that surround our daily lives. Ultimately, I want to demonstrate that everything has the power to inspire.