Tuomas Korpi lives in Helsinki, Finland, where he is the Creative Director of an animation and illustration studio, Piñata. His lifelong interests in drawing and painting, combined with his skills in computers and architecture, have led to a body of work with a special focus on landscapes and lighting. "What I enjoy the most are environments and nature, especially the lighting in different seasons," he said. "I would describe my work as trying to capture something that I see in nature every day, and introducing a story with the images at the same time. I have always been really keen on the things I see and maybe that's part of the reason I started painting: seeing the light and how it travels in space. It's always been a part of me."
Many of Tuomas's ideas come from observing the world around him. He likes to use his notebook and take photos using his phone to keep track of his image ideas. "Usually I get ideas from something I see around me. From that basic idea I start exploring further with thumbnail sketches, figuring out what would be the best composition and angle to paint, trying to explore if it's possible to show in one frame what I see in my head. If I'm happy with one sketch, usually at that point I already see how it's going to look when it's finished. When working on a painting, at each step of the process I try to explore if I can push the colors or the lighting a little bit further."
His piece Heart of the Forest fuses Tuomas's love of environments, lighting, and story. The image depicts a man carrying a lantern, surrounded by large, gnarled trees with orbs of yellow light in their branches. Even the water at his feet appears to glow. "With this piece I started playing around with an idea that there are sources of light growing from a tree. This light is oozing from the ground, and the man in the image just takes this light, this essence, and collects it." said Tuomas. "This is how I sometimes feel when visiting a forest, how I experience this peaceful, nice environment." Spending time in nature is one of Tuomas's favorite pastimes, whether he's hiking in the forest or cycling along the Finnish coastline.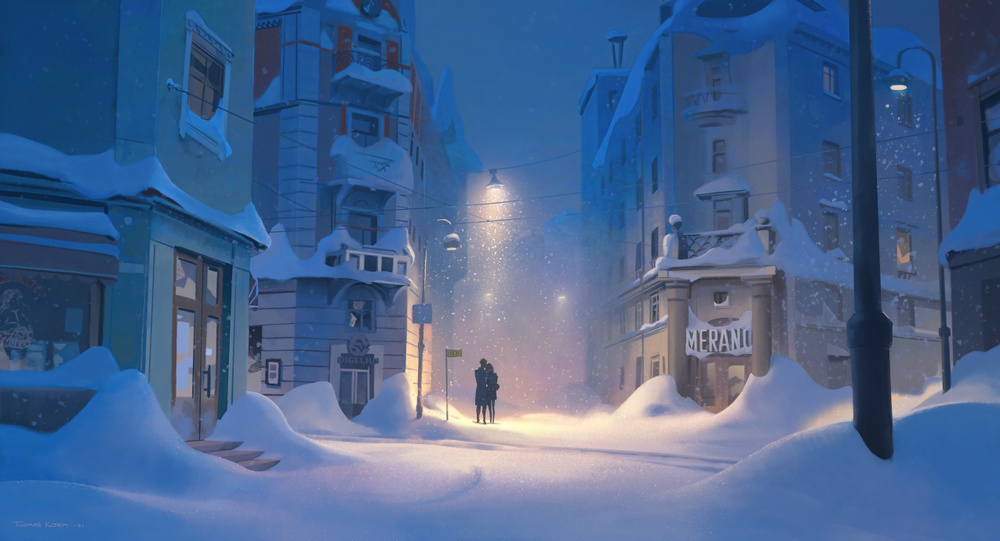 He also has a longstanding interest in computers, which has influenced his work through the years. "As I grew up I used to play video games, and I was really this computer geek almost. At the same time, I was drawing and painting a lot, and those two things eventually came together. Sometimes I was more interested in computers and doing homepages or writing some code, and other times I was more interested in painting and drawing. When I was in high school in the early 2000s, one of my friends was doing an indie video game and he wanted someone to create some artwork for that. I had some experience in using Photoshop back then, but that was the first project I worked on in digital media and created something entirely with a computer."
Tuomas prefers to get most of his creative work done in the mornings, tackling other tasks in the afternoon. "Whether I'm working at the office, or painting at home, it's the same; I'm really more of a morning person than a night person. I wake up, and then after breakfast, usually from 8 until around noon, it is my most productive time. During the afternoon, if I am at work I try to be more involved in meetings, helping others, brainstorming and writing emails."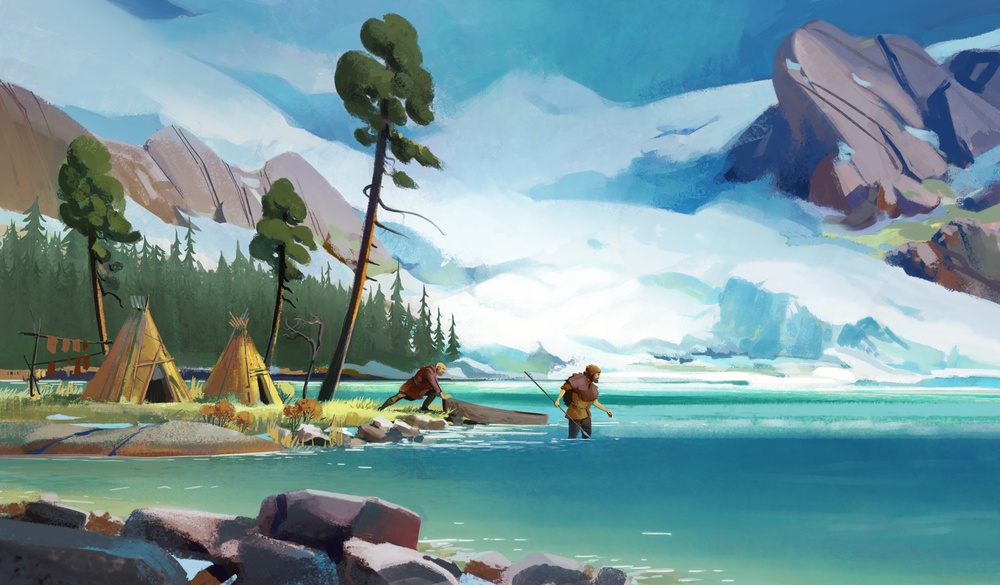 As one of the founders and as a Creative Director of Piñata, Tuomas has an important role that allows him to be creative and work with a diverse team. "Directing a creative studio is a lot of fun. We have a lot different projects and a lot of stylistic variety between them. We may do something that is very technical and photorealistic, or something cartoony that is heavily stylized," he said. "As a creative person it is really fun to be able to work in that kind of environment, but also it's an amazing opportunity to get to work with different kinds of people, and people with different talents. Together, we can create something that we couldn't do by ourselves. "
Piñata is a thriving illustration and animation firm, and Tuomas tries to give as much freedom and responsibility as possible to the artists in the studio. "If I get a certain feeling from the client about the the direction they want to go, I will jump in to help, but it's always teamwork. I guess my strongest areas are composition and color palettes, so I try to support the projects particularly on those areas. However, one of the principles I have is that I try to give as much creative freedom as possible to everyone, to give them ownership of the project. It's really hard to be creative if someone else is micromanaging you and trying to influence too much. If I really want to grow as an artist, then it's hard if someone is telling me what to do."
About half of Piñata's projects are done for game companies, and the other half are for marketing and advertising. The team gets together outside of work sometimes. "We try to think up activities to do as a group, especially in summertime," said Tuomas. "Maybe mushroom hunting, playing basketball, or seeing some sort of cultural event, like the opera. We had a tour of the national opera and got to see how the costumes are made and so forth. We also have a weekly Crossfit class for everyone who wants to join. It gives a real nice boost to the whole day!" The creative community is one of the reasons why Tuomas is happy to live in Finland, along with its natural beauty. "I also like the nature here, the walking and biking routes around the coastline. It's a really nice place, a lot of nature. We get to see the four seasons."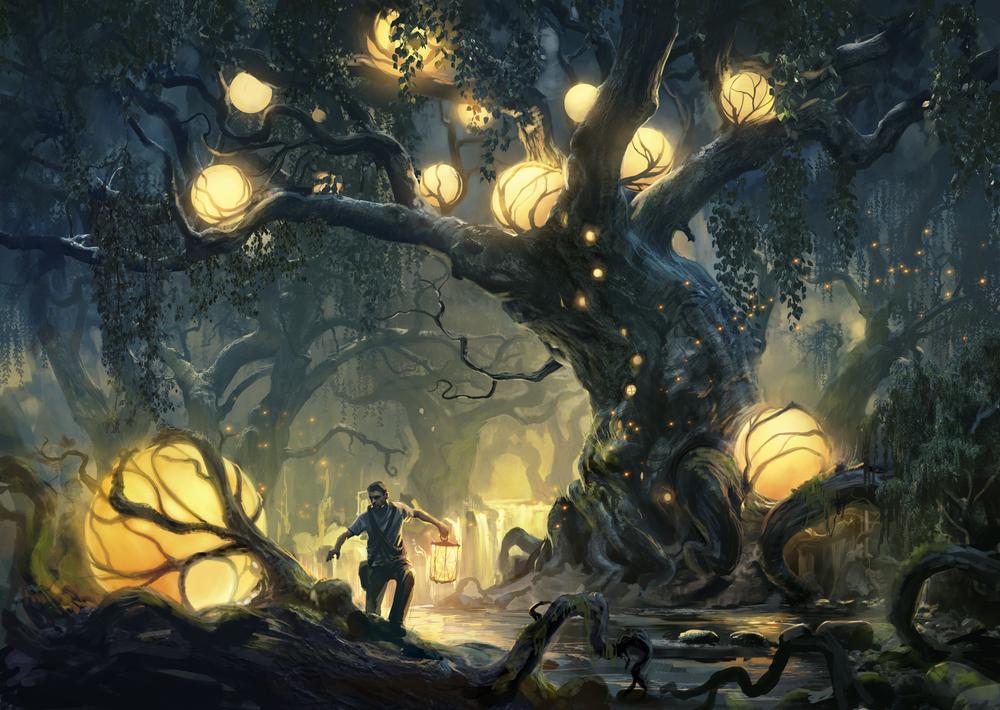 He got started as an artist by sharing his work online, and although a lot has changed since then, he would tell newer artists to do the same thing. "Some ten or fifteen years ago, the internet art scene was smaller. I published my artwork and it was more easily noticed, but I think the same principle still stands today: If you want someone to get interested in the work you do or about you, then you have to show the work somehow. There is so much incredibly good artwork available everywhere that people are hesitant to post anything, but that is really the only way for people to notice you," he said. One place where Tuomas has shared his work since 2013 is INPRNT.
"I saw my colleagues and friends using it, and I thought, why not try it? I really enjoy the high quality of the INPRNT products, and I think it's a great platform because it's easily available," he said. "One really nice thing that happened a couple of years ago was when there were a lot of people on Reddit asking where they can get my artwork. Just in time, I posted my INPRNT, and people could buy my artwork through the link in that thread. I think it's really good to have because if a particular painting is catching a little bit of fame, I can give people the opportunity to buy that. That is a really nice thing to be able to do."