Rachel Suggs grew up in Texas, where she attended an arts magnet high school. She also benefited from the encouragement of her creative parents. "I was really privileged to have a family that supported my work. My mom's a painter, and my dad's an architect. Having that early was a really positive experience as I began to take art more seriously. Creative activities are what I excelled in, and I'm thankful my family recognized that," she said.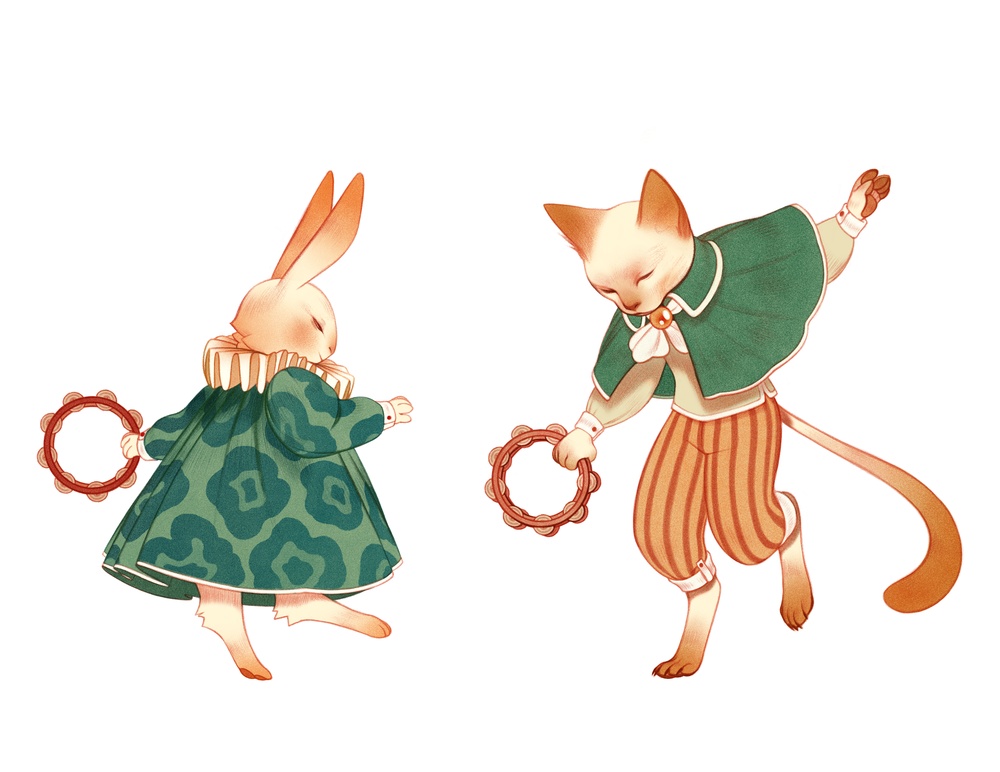 Attending an arts magnet opened up many doors for Rachel, and she was exposed to some of her earliest influences by an instructor there. "My printmaking teacher gave me this magazine with some of Jillian Tamaki and James Jean's work in it. They became early influences when I was a teenager," she said. Another teacher recommended the Maryland Institute College of Art's pre-college program in Baltimore, and Rachel ended up taking college-level illustration classes there between her sophomore and junior years of high school. This summer program was her first introduction to the school she would later attend and graduate from. "A lot of the students at MICA really had their own voice and unique work. That really attracted me to the school," she said.
During her time there, Rachel overcame many struggles to become the successful artist she is today. "My college experience had a lot of ups and downs. Even though I met a lot of wonderful people and my work grew a lot, I remember my junior year felt like a dead end. I had gone through several years of depression and anxiety, and that was the year it hit its highest peak. My own mental health along with MICA's unchecked toxic culture and staff played a massive role in my struggle there," she said. "As an artist I think you need to be self-critical to improve, but there came a point where my own self-criticism had become exacerbated by the environment I was in. You need to be kind to yourself and put your own needs over the art you make first. It's something I continue working on from time to time, but when I slip up it absolutely shows in the work I do."
While Rachel grew as a person, her work also evolved with her. "In college I didn't know if I wanted my work to be more realistic or stylized, but then I got into screen printing. Just the challenge of working with a really limited two or three color palette, and working with shapes and flat colors, really helped inform the style you see now. I ask myself which shapes are really satisfying and exciting for me to draw. It's a really organic process," she said. "Over the years, I've been drawn to different colors, too. In college my palette was cool and dark, but more recently I like a warmer palette. When I start a piece I usually start with just two colors and then, maybe halfway through the process, I start adding more colors on top of that. It's limiting, but it makes it easier for me to pick a direction. When I have too many options, it's intimidating to figure out a palette."
Rachel follows a similar philosophy when it comes to choosing her subject matter and overcoming creative blocks. "In college my former professor, Jaime Zollars, taught us to make a long list of things we love or know a lot about. If I'm stuck I'll go to that list and try to incorporate those things I'm excited about into personal or freelance projects. It really helps if I feel uninspired or stuck," she said. "I like drawing at museums or the conservatory for inspiration as well. Just leaving your apartment, getting coffee, hanging out with friends and enjoying life is important. Sometimes I'll even go back to old sketchbooks from high school or college and I'll find something really interesting I can work with."
Sketchbooks played a huge role in Rachel's development as an artist, and she started using them when she was a child. "My 'style' happened through a lot of experimentation and failure. I found sketchbooks were a safe place to do this without having to show anyone or get embarrassed," she said. However, she believes sketchbooks aren't the end-all, and her advice to new artists finding a voice is to fearlessly experiment, learn from mistakes and see what sticks. "A person's style shouldn't remain static ten years later. It's normal for your art to change organically, and I think these habits are useful in order to keep from feeling stale."
She also recommends posting work online. "Using social media has been helpful in getting freelance work and selling prints. I think my presence started to grow post-graduation, and a year after that I got work from Cartoon Network on a Powerpuff Girls campaign. I used to wake up early before school and watch that show with my dad, so it was surreal and really unexpected. I asked them how they found me, and apparently it was through my internet presence and social media."
Rachel sells prints online at INPRNT. "I found INPRNT through Sam Bosma and Kali Ciesemier. They would order your prints and sell them at SPX, and they told me what a great experience they had with you. I liked the quality of the prints, and that artists make more profit here compared to other places. Y'all really seem to care about the artists you work with and that's what attracted me to INPRNT," she said. Besides selling prints, Rachel's a full-time illustrator at Duolingo and previously worked as a freelance artist for clients like The New York Times, TIME, Quanta Magazine, Polygon, Macmillan Publishing and Little Bee Books.
She began working at Duolingo's Pittsburgh office in August of 2019. The team there consists of several product designers, two illustrators, two animators, a producer and an art director. Lately, though, Rachel has been working for Duolingo from home due to the COVID-19 pandemic. "While it's nice working at home with my dog, Una, I do miss the perks of being at the office and the company and presence of my team," she said. "I also miss the separation between my home and office, because that dynamic helped a lot with my productivity. "
Rachel usually starts her day by checking her calendar and cuddling with her dog. She used to take the bus to work, but while working remotely, she makes a cup of coffee at home and checks in with her team over Slack and Zoom, with Una by her side. "Most of my day is on the tablet, so I'm grateful for my dog's companionship and that encouragement to step outside once in a while," Rachel said. She has also taken this time to pick up a new creative hobby: weaving. "I built my own loom with some nails and stretcher bars. It's a great thing to do if you have patience and need something that's easy to learn. It's also perfect with a podcast in the background."
When she worked as a freelance artist, Rachel supplemented her income with jobs at a book store, coffee shop and print studio. Today she really likes the security of working as full-time illustrator for a successful tech start-up. She was also happy about the opportunity to move to Pittsburgh. "It's not a place I anticipated arriving at, and prior to my interview at Duolingo I had never visited, but I'm so grateful to be here. It's fresh, but there are some familiar, historic and quirky details that remind me of Baltimore," she said. Rachel has made an effort to meet all types of creative people there, including those outside of the illustration world. "For the most part though, I just relish having a place for myself and embracing an independent lifestyle."