Deborah Lee was struck by a spontaneous idea on April Fool's Day years ago. She browsed over to Facebook and began typing a new post, letting her friends and family know that she was quitting school and going to Pixar to work on Toy Story 4. "Within an hour there were at least 200 people who believed me. My dad called me, my high school teacher—like you're getting your dream, congrats!"
It was a successful prank. The reality was that Deborah hadn't left Carnegie Mellon University in Pittsburgh, where she was studying communication design. It's a branch of graphic design with a primary focus on conveying information, with less emphasis on aesthetics. Deborah chose the major and her university because of the opportunities in academics, which she had always balanced with her creative side. She grew up drawing and had dreams of becoming a concert violinist or an animator before choosing communication design as a compromise with her parents.
Now Deborah's career is taking off while she grows as a visual artist and explores her identity as a Korean-American. She was born in Seoul, then moved to the United States and lived in several different cities across the country as she grew up. Some of her earliest memories are of reading comics and making her own. "When I was in elementary school, I would make zines—oh man, I was so cool, I made zines when I was 8 years old! I would make zines or comic books, and I was so proud of my collection. I was really into writing stories. My mom used to have me write in a journal every single day, which first of all gave me some mad callouses, but also made me a better storyteller."
Eventually Deborah realized that drawing and telling stories made her feel alive. "There's a part of me that was always supposed to be there that I kind of forced out," she said. Years after moving on from comics and dreams of animation school, Deborah's April Fool's Day prank inspired her to pick up a drawing pencil again. "I was like, so many people believed that I can do this. Can I do it? Can I make it as an artist? I remember feeling this longing to get better at something that I hadn't felt in years. I just started drawing and I haven't stopped drawing since. It's crazy."
Feeling motivated, she began to seek out inspiration on sites like Pinterest. "The way they would give you image after image was addicting and drew me into illustration more and more," she said. Becoming energized by the endless array of work by other artists was a big turning point for Deborah. She also found herself swept into social media challenges and themes like Inktober. "Part of it is to hop on the bandwagon, feeling like everyone is in this together. I think that's a really big part of it," she said. Deborah created a series of tarot-themed ink drawings, now sold as prints at INPRNT.
Her parents encouraged her along the way, and she was influenced by other artists in the family. During her teen years she was focused on playing the violin, but people encouraged her to be a visual artist instead. "In high school there was a point where I wanted to pursue concert violin, but my parents thought I wasn't good enough. Even my violin teacher said, 'Deb, you should draw, you would be really good at it.'" Deborah considered animation school before deciding to study communication design, and the techniques and principles she learned as a designer are ones she uses today as an illustrator and comics artist.
As Deborah's work progressed, she decided to submit it to the Society of Illustrators. "I first applied to Society for their annual, which is not a student version, and I actually didn't get in at all. I was like, well, I guess that's the end of my illustration career. Goodbye! But I kept going and a few months later I entered the student scholarship competition." At the time, Deborah doubted her chances. She wasn't an illustration student and she thought the other applicants were much more talented, but she decided to see what might happen. She ended up receiving one of the highest awards. "It was unreal to me. I thought that they would call the next week and be like, sorry, that was supposed to be for someone else. I had dreams where they said, 'We're going to take away your scholarship.'
"That moment was when I was like, okay, I guess my professors were right when they said these competitions are really subjective, and I do have a chance of making it in the industry. Even though competitions should not be how I define my self-worth, it was still uplifting. There is somebody out there who thinks I can do it. It's a validation that I think I needed at that point, as embarrassing as that is to say out loud. I was screaming. I was in denial. I yelled, there was a lot of yelling that morning."
After graduation, Deborah moved around the country for opportunities at NPR and LinkedIn. She was already used to fresh starts in new places, having moved from Seoul to New York City as a child before living in Alabama, New Jersey, and Pennsylvania. Moving around so much exposed her to different types of people and places, some of which were less than welcoming. "It influenced my work a lot, thinking about how I grew up as an Asian-American in such drastically different environments in the States," she said. "I encountered a lot of racism. I have a legal first name that is very different, Jung-Jin. People made fun of my eyes, made fun of my name."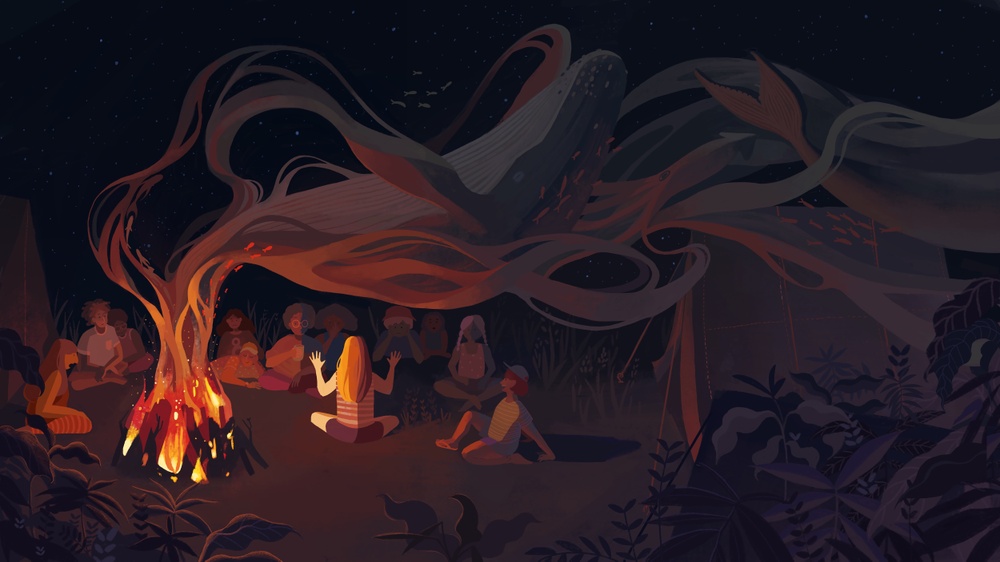 Deborah's experiences have led to her graphic novel memoir, In Limbo, about the intersection of Asian-American diaspora and mental health. "All of that really influenced the work I am making right now. I'm making sequential pieces about what it's like growing up Asian-American. It's what I'm thinking about recently and where I plan on taking my work." The book will come out in Fall 2021, a memoir sharing Deborah's own personal experiences. Deborah developed the idea for the book after making a comic about the language barrier between her and her grandparents.
Besides her personal work, Deborah also works at a day job as an illustrator and takes on freelance work at night. She lives in Oakland, California, and being in the Bay Area has inspired her to approach her work in new ways. "A while ago I started working in sprints. It's a very Silicon Valley way of getting work done. At the beginning of a couple of weeks, you write down a few things you would like to finish. I label those in terms of priority and get started, working from when I get home until I go to bed. I love making these lists because it makes me feel more productive," she said.
Sprints allow Deborah to break down a large project into tasks like storyboarding and character design. She says that comics are harder to make than they look: "After making these things I have so much more respect for comics artists. You have to draw the same person over and over and over again. In a way it feels like you are watching a movie, but you have to draw every frame of that movie to tell the story the way you want to. You have to be consistent between each panel, too. You can't slack off because that will mess with the story. It's a lot harder than I expected as someone who as an illustrator drew one image and was like, bam, I'm done."
Deborah also makes time to stay active on social media, sharing her work regularly and interacting with other artists. "My friends from school and I like to joke that your Instagram is basically like your business card nowadays. Social media is really, really big. Some of my work comes from there, and it is how I make a lot of friends and kind of see what everyone is up to. It was the best way to wiggle my way into illustration, just by talking to people, reaching out, being engaged, being interested without being fake. Being like, hey, I love your work, and I actually do love their work."